The idea of our "How does internationalization work with…" series is to take a closer look at shop systems and examine their potential for internationalization. But today we are going to make an exception and explore the Content Management System (CMS) WordPress. The reasons for this are two-fold: Firstly, free-to-use WordPress is the world's most prominent CMS with a gigantic market share of almost 60% (as of 2017). Secondly, it is one of the most versatile systems and can be transformed into a fully fledged online shop with little effort, using plugins such as WooCommerce. Alex Frison kindly agreed to discuss the topic with us. As COO and co-owner of Inpsyde, he is THE expert for WordPress, especially when it comes to multilingualism and online shop functionality.
---
---
Blog software? CMS? Shop system?
WordPress started in 2003 as a software for blogs, but quickly developed into a fully-fledged CMS that could also be used to implement demanding and comprehensive website projects. Nevertheless, for a long time WordPress had to live with the preconception that it was "only" a blog system that could not keep up with other CMSs. WordPress has now left this reputation behind, but some people still do not take it seriously.
Alex Frison: Many companies now tend to think of WordPress as a CMS for smaller websites. But this opinion has also been outdated for several years. WordPress is a very good solution for enterprise CMS projects with extensive content, large numbers of visitors and numerous connections to third-party systems. THE SUN, for example, with several million posts and several million visitors per day runs completely on WordPress. We now also have exciting projects with SAP, UEFA, Facebook and P&G among others, who use WordPress as their preferred solution for their websites.
WordPress is now much more than "just" a CMS. There are a huge number of plugins out there, some of which extend the range of functions considerably. Magazines, social networks, online shops – almost everything can be implemented with WordPress.
Alex Frison: WordPress is now being combined with WooCommerce to form a very successful shop solution! A market share of just over 40% of all e-commerce websites worldwide speaks for itself. Over the last 2-3 years, we too have been getting more and more inquiries regarding e-commerce. We also frequently have projects which require a connection to a third-party system via API, e.g. to ERP systems such as SAP. We are the only official WordPress VIP Partner and WooCommerce Gold Expert in the world. The times when Typo3, Drupal, Oxid, Magento and others would look down on WordPress are long gone.
The WordPress Community – A highly active international network
One reason for this resounding success is undoubtedly the WordPress Community. People from all over the world work on and with WordPress, organize WordCamps and get together at WordPress Meetups to form a well-connected and highly active community. That is of course reflected in the software itself.
Alex Frison: WordPress is now available in almost all languages and even in many dialects. There are also numerous plugins that help users to use WordPress in a legally secure manner, e.g. for e-commerce solutions. Thanks to the many extensions and plugins, with WordPress you can adapt the website or the online shop to the legal requirements of different countries. In this respect there really are no limitations.
No out-of-the-box multilingualism
Limitations do exist, however, when it comes to offering multiple languages on one site. WordPress offers no out-of-the-box solution for multilingualism. This is not necessarily a shortcoming of WordPress, but rather one of the reasons for its success: The basic installation is as streamlined as possible, but is almost infinitely expandable through plugins, webhooks and APIs. A feature such as multilingualism, which is of no interest to the majority of users, is therefore not included in the basic functions. However, there are several plugins that can be used to add multilingualism to WordPress.
Alex Frison: Working on international projects, such as the TV station Arte, lead us to develop our own solution 6 years ago: MultilingualPress (MLP) is now used successfully by WordPress itself and many WordPress VIP agencies and other large projects.
Unlike other well-known solutions, MultilingualPress is a clean solution based on WordPress Multisite technology.. This means that each language is created in a separate site, instead of all languages on a single site. Each page can (but does not have to) be individually optimized in terms of language, culture, functionality and SEO.
A separate site for each language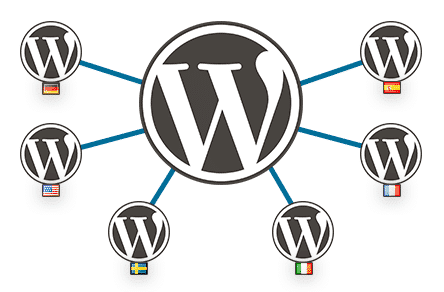 This multisite approach offers many more advantages, however. Each language can be edited and optimized completely individually – both in terms of content and technology. Thanks to the clean separation of the individual language variants, there are no conflicts when using different plugins and no performance losses. When opening the page, not all language variants need to be loaded, only the version currently selected. The same goes for the plugins:

Alex Frison: Only those plugins and functions that are required in the specified language are loaded. Legal plugins that are only required for the German market, or plugins that are only allowed in the USA but not in European online shops due to data protection, for example, can be deactivated in the other languages.

Moreover, there can be no "lock-in" effect from which other solutions suffer. MultilingualPress can be deactivated at any time without changing the display of the individual country pages. With other solutions this can lead to a wild mix of languages, or in the worst case scenario the complete site becoming useless. Another aspect is search engine optimization (SEO). The clean separation enables really detailed optimization.

Alex Frison: This applies not only to images, but also to other settings, functions, labels and files that can be optimized in terms of the language. Last but not least, the significantly better performance also has a positive effect on the SEO ranking.

Our partner Alex Frison has been working with WordPress for over 10 years, is co-owner of Inpsyde and implements WordPress-based projects for medium-sized and large companies, with e-commerce often a focal point.

This clean separation has one other effect that is seen as an advantage by some, and as a disadvantage by others. Since each language version of the website or online shop is its own WordPress instance, each has its own media library. The advantage of this is that for each language site you need only store the images and files that are relevant to that language. This ensures greater clarity and also better performance. On the other hand, however, it means that images and files that are required in several languages have to be added and managed individually in each instance.

As a result, users often wish to install a central media library or to link the individual libraries together.

Alex Frison: We will work on a solution to synchronize the media libraries, but I can't say exactly when.

As already mentioned, aside from MultilingualPress there are a number of other plugins that enable multilingualism in WordPress. The ambitious Polylang is particularly worthy of a mention. These plugins all work with a single WordPress installation (singlesite), so they offer fewer customization options and often suffer from poor performance. An undeniable advantage is that these plugins can be integrated into existing projects without much effort, and without having to touch the technical basis of the site.

Alex Frison: But if you want the site to grow, it is difficult to change it afterwards. That is why it is best to opt for a clean solution right from the get go.
---
In the second part of this article we explore the capabilities and limitations of WordPress when converted into a shop system using WooCommerce, and its potential for multilingualism and the professional translation of large volumes of text.
---
We would like to thank Alex Frison from Inpsyde for taking the time to talk to us and for providing us with so many interesting insights.
Last edited: March 9, 2018

Author:

Eurotext Editorial Team

We explain how internationalization works, provide tips for your translation projects and outline some of the technology and processes used. We also report on current e-commerce developments and cover a range of language-related topics.