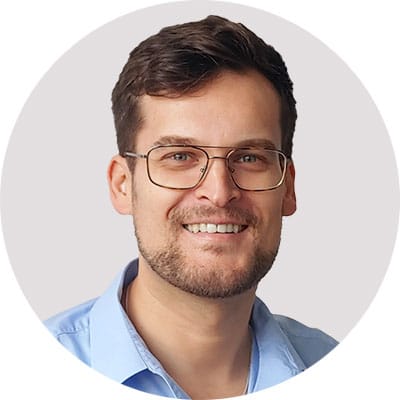 Here at Eurotext, customer satisfaction and the continuous optimization of our quality, workflows and costs are a top priority. And we can prove it. We look forward to hearing from you!
Philipp Seltsam is a consultant for new Eurotext AG customers. He works closely with project management to find the right services and service levels to match customer requirements and offers knowledgeable advice for translation-optimized workflows and formats – a good start for a successful partnership.
How much are professional translations?
We adapt our prices and services to the requirements of each individual customer. That is why we need the source texts or some sample data to create a personalized quote – only then can the cost-saving potential of our translation technologies be fully utilized. Once we have analyzed your data, you will receive a fully transparent quote. View pricing examples.
What does quote creation entail?
Each quote is based on an exact analysis of the texts and the customer: Repetitions across all texts, the text type and topic, target groups and required style. Other aspects for consideration are time constraints and requested add-on services. You will receive a quote that matches your needs and requirements.
Eurotext – a reliable partner
We build reliable and lasting partnership at eye-level with our customers. That is why we guarantee essential aspects like service and linguistic quality, price stability, transparency, privacy, ownership rights and more. All these aspects are defined in a framework contract at the start of our collaboration.
Prices & Projects
Here you will find some sample calculations for past projects. Average per-word prices depend on a variety of factors: Source and target language, text type, data format & structure, system solution, quality requirement & service levels, volume, etc. We will create a quote tailored to your specific requirements!
Industry customer
Languages | Markets
32 languages | Europe, Asia, North America
Text types
Business communication, product texts, technical documentation
Formats
InDesign, XML, MS Office
Workflow
24/7 translation portal and easyCONNECTOR
Average per-word price
EUR 0.06 – 0.08
IT customer
Languages | Markets
9 languages | Europe
Text types
Software texts/strings, help texts
Formats
JSON, *.Properties, XML
Workflow
24/7 translation portal and API
Average per-word price
EUR 0.14 – 0.16
E-Commerce customer
Languages | Markets
3 languages | Central & Eastern Europe
Text types
Product texts, SEO texts, software text
Formats
JSON, XLF, CSV, Word
Workflow
translationMANAGER, 24/7 translation portal and API
Average per-word price
EUR 0.06 – 0.09