Text selection made easy
Select product texts, categories, CMS pages or language files with just a few clicks and have them professionally translated into more than 50 languages.
Translating SEO content
translationMANAGER allows you to select SEO content from all areas in your shop for search engine-optimized translation.
New: Internationalizing mobile themes
Make sure that your shop leaves a good impression on the mobile devices of your customers – wherever they are in the world. translationMANAGER can now also handle the export of language files for mobile themes.
Perfect for regular content updates
Any text that has previously not been translated is selected and sent to the Eurotext Translation Portal for processing at the click of a button.
Export and import of translation projects
Plenty of power in a click: Export texts for translation and automatically re-import them after translation. It's that simple.
Compatible with all editions
Community Edition, Professional Edition or Enterprise Edition: The Eurotext translationMANAGER is compatible with all OXID editions (4.7 to 4.9 and 5.0 to 5.2) and fully certified.
Plug & Play
translationMANAGER is easy to set up via the backend of your OXID eShop. Get registered, log in, go!
Screenshots
1. Plugin settings in translationMANAGER for OXID: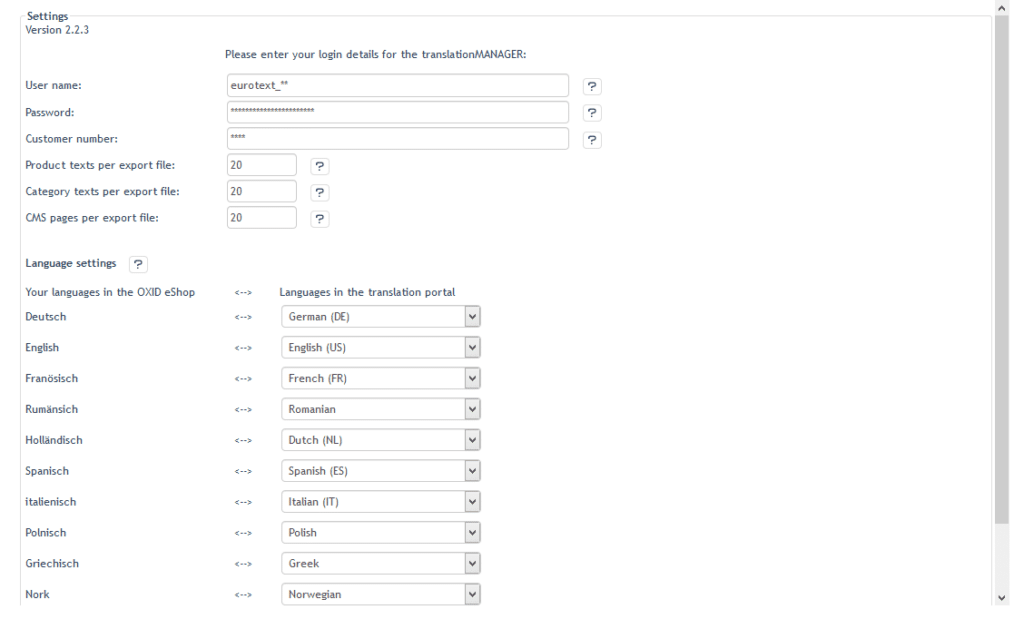 2. Category selection in translationMANAGER for OXID:
3. Product selection in translationMANAGER for OXID: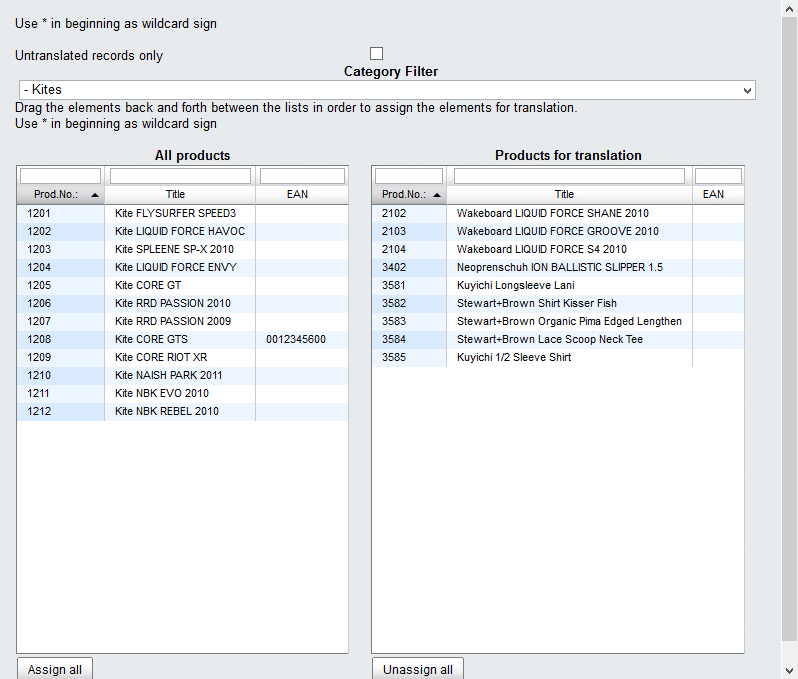 4. CMS page selection in translationMANAGER for OXID:
5. Exports in translationMANAGER for OXID:
6. Imports in translationMANAGER for OXID:
About OXID eSales
The Freiburg-based
OXID eSales
offers one of the three most popular professional shop software systems in Germany:
OXID eShop
. Since its founding in 2002, big name brands like Deutsche Post, Edeka, Bergzeit and Van Laack have come to rely on this software for their online shops. The move to Open Source has made the software incredibly flexible and customizable. In addition to offering a fully integrated CMS, OXID eShop is compatible with third-party systems and a great choice for B2B and B2C companies. The OXID quality standard received its Trusted Shops-certification in 2010.
OXID offers matching solutions for any company size. OXID Professional Edition for professional retailers is a complete solution that can be flexibly customized to the requirements of any shop operator.
A later upgrade to the
OXID Enterprise Edition
makes sense, once the business grows. This edition offers additional functionalities and services, and is ideal for international retail.
The software is not particularly demanding in terms of hardware, which makes it a good choice for smaller online shops. The OXID Community Edition creates a close proximity to the technical user, as improvements and new developments are communicated directly from the community to OXID, and experiences are mutually exchanged.